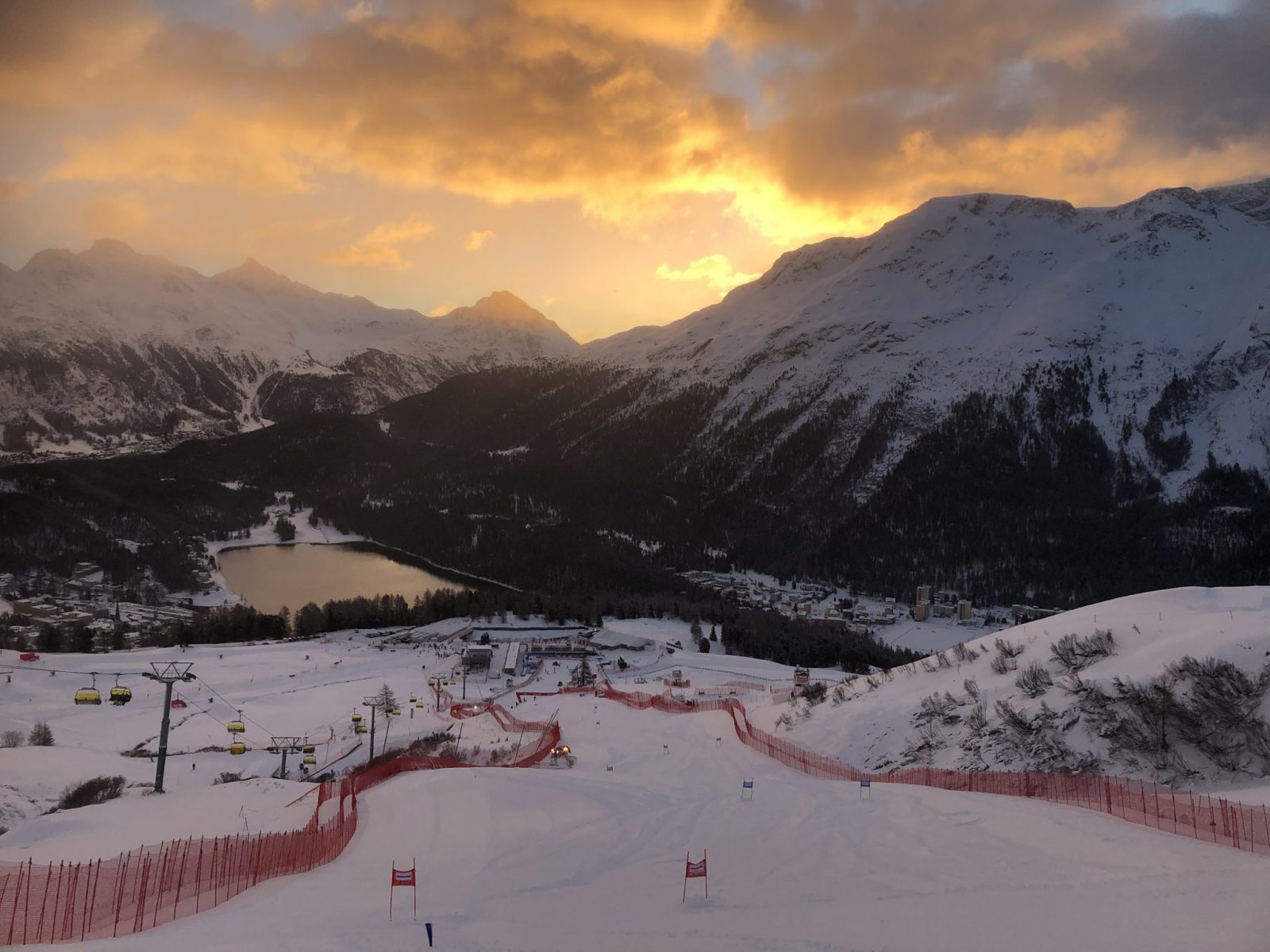 Use in St. Moritz
In St. Moritz was a slightly bigger delegation of the Course Crew in use for winter sports this time.
Marion, Joana and Axel in the Slip Crew, Joachim as Picasso, Dani at the quad and my one at the Airfence Crew.
After spending a nice, very funny evening on Thursday in Elmi's flat, we went on track on Friday.
The Slip Crew was busy with the final finish of the Super-G course the whole day, meanwhile I was driving the "air mattresses" through the area and placing them with my team.
The weather forecast for Saturday wasn't bright at all. Violent squalls and 20-50 centimetres of snow have been predicted. But luckily it was not thaaaaat bad.
The teams were all on the mountain at 06:20 and were working highly focused to get the ca. 10 cm of snow out of the track. Despite the stress, there was never a loud tone coming up. I have never experienced such a nice, relaxed and positive way of working at any race before!
In St. Moritz, a lot of machinery is used to get the snow out of the piste. In the slightly flatter passages the snow is cleaned off the slopes with the quads and afterwards removed with the caterpillars. Then, the final finish will be done by the Slip Crew and the sections. Through this machine support people on the mountain are significantly relieved. The Ladies Super-G could be started on time and we were experiencing an exciting and spectacular race in the most beautiful weather.
Afterwards, the track has been prepared for the next day Parallel Slalom, free according to the motto – "After the race is before the race".
Sunday, 06:20 on the mountain – violent snowfall and wind.
The Slip Crew could still gather a bit, meanwhile I was already positioning the airfences for the cameras and other danger spots with the "Airforceteam".
After the inspection, the motto was – tackle, tackle and tackle again. 10 – 15 cm of fresh snow had to get out of the piste. Here, the Slip Crew came to its limits. Through the long circuit with the chairlift and the "deep snow downhill" to the PSL-start it went to the substance.
Dani and his Quad Crew did a brilliant job and cleared a lot of snow to the side, which allowed the ground staff and the slippers to do their core tasks slightly resource-saving. Then, the Airfence Crew helped in the sections to finish the piste using shovels.
I think nobody considered it possible that we could have started the race on time, but voila – FINISHED!
Qualification runs started on time.
PSL – start on time 13:00.
After a very successful race that could take place more often in this format!
Result: Course Crew says THANK YOU St. Moritz – we will see each other again for sure!